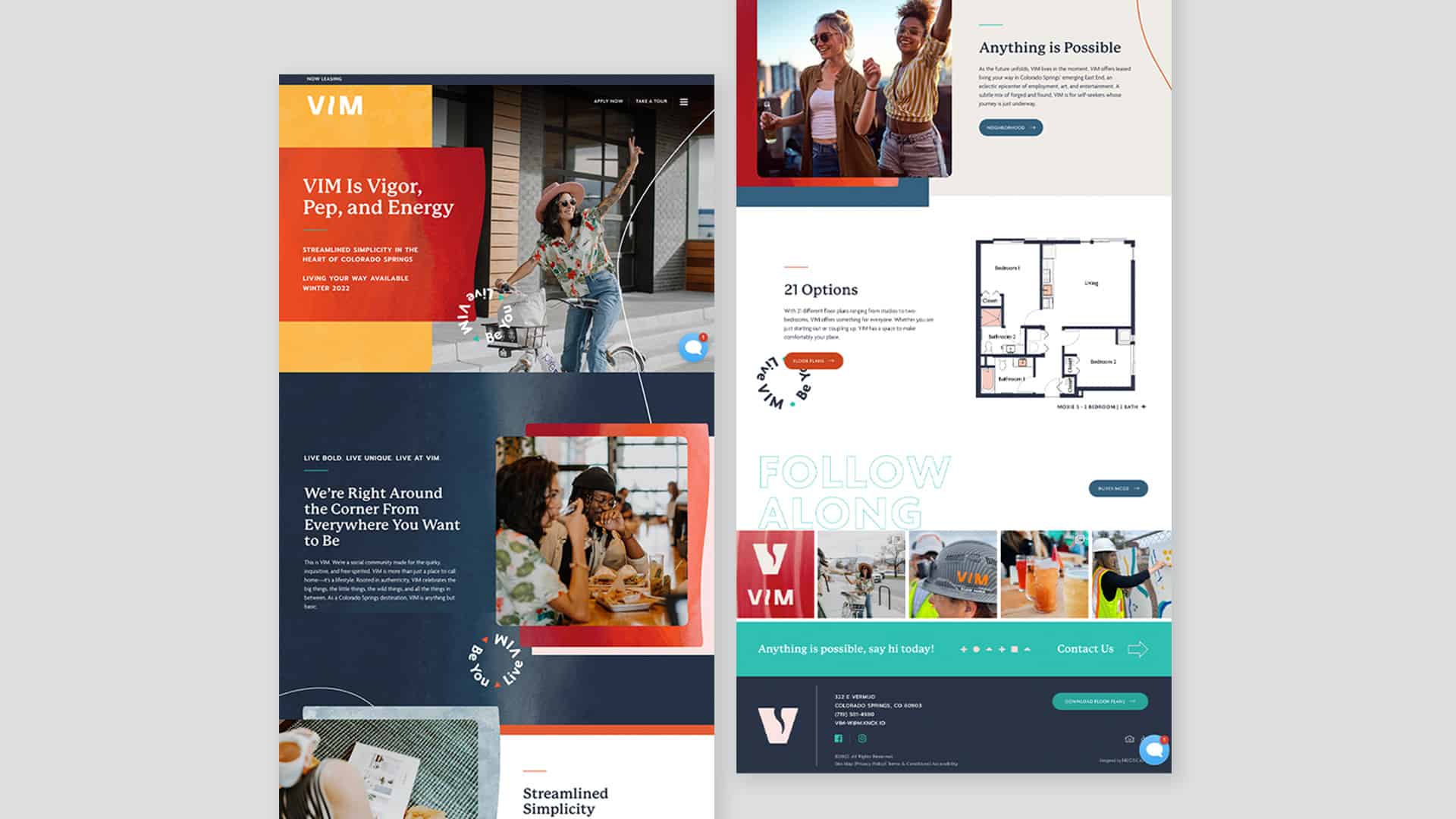 In October of 2022, Norwood's latest residential development, VIM, swung open its doors in the bustling hub of Colorado Springs. VIM invited residents to experience a new wave of urban living, built on the mantra "LIVE BOLD. LIVE UNIQUE. LIVE AT VIM." Norwood's mission was to provide apartments that fostered a vibrant community tailored for the quirky, inquisitive, and free-spirited.
Neoscape worked alongside the Norwood team to develop a leasing website and aggressive digital marketing campaign to help VIM stand out in Colorado Springs' multifamily market, which is brimming with competitive housing options.
The Strategy to VIM's Leasing Success
When VIM's digital presence came to life in Q3 of 2022, we adopted a two-fold approach, which consisted of:
An SEO strategy and web presence to ensure that VIM's online footprint was prominent and enticing. After all, your website often makes the first impression in the digital age.
Creating tailored social media ads rather than casting a broad net. We decided to appeal to a niche group that sought to live independently for the first time. These smaller spaces were the perfect opportunity for people longing to break free from shared living—whether that meant saying goodbye to roommates or leaving the family nest (or even leaving a relationship).
This two-pronged approach soon began driving over 1,000 visitors to the website monthly – even though the site itself was brand new and the development sits in the increasingly competitive heart of downtown Colorado Springs.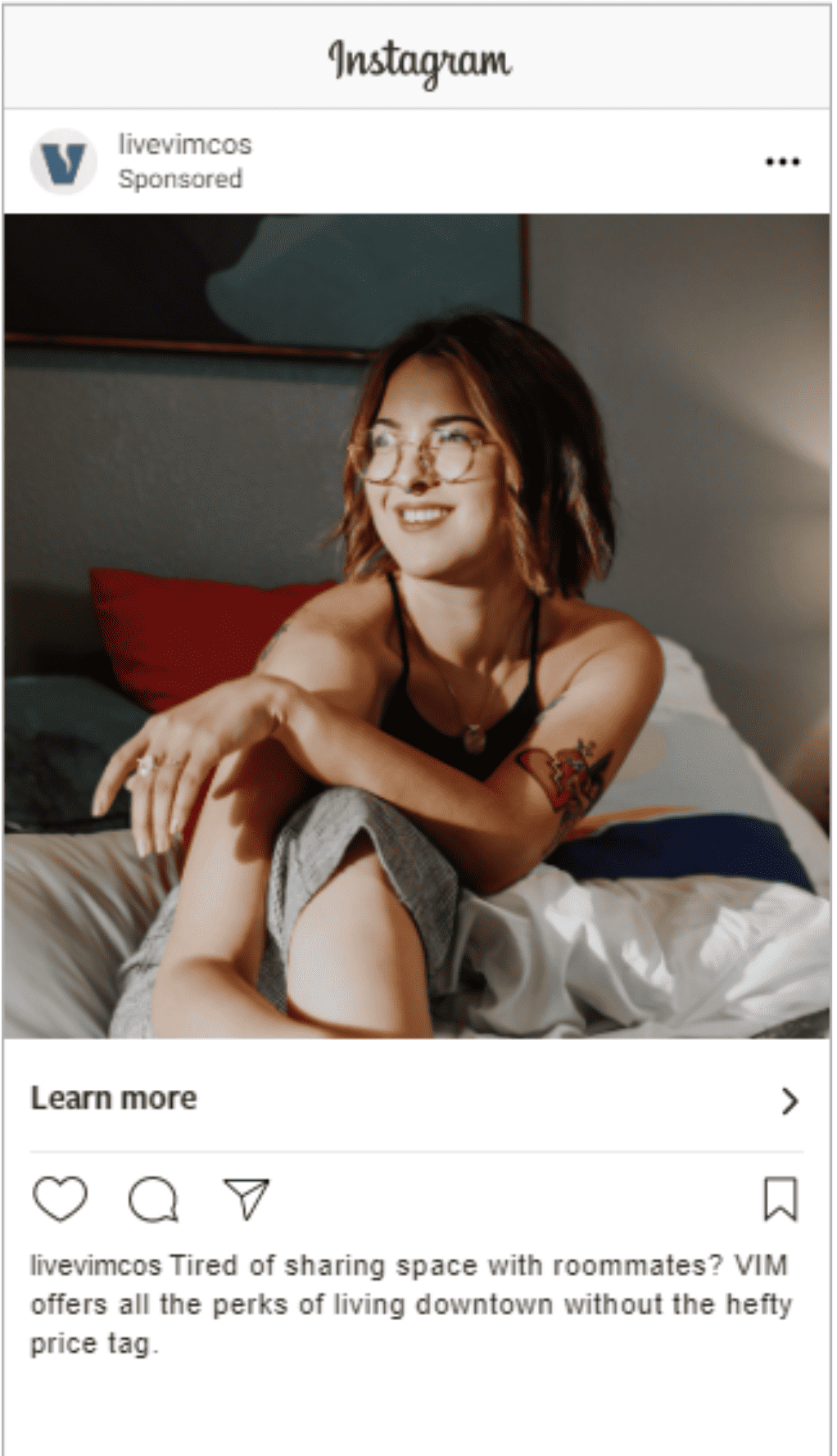 Rapid Results & Unexpected Outcomes
Our strategic SEO approach, combined with the allure of VIM's unique branding, was thoughtfully crafted to maximize organic site traffic. Impressively, we achieved this without the assistance of paid Google ads. From May of 2023 through August of 2023, our keyword rankings not only climbed but remained consistently high, positioning VIM at the forefront of search results.
Furthermore, our total click rate maintained steady momentum from January of 2023 all the way through August, affirming the strength and sustainability of our digital strategy. The combination of written content optimization, competitive keyword visibility, and growing site authority in the most popular search engines amalgamates to the perfect SEO competitive edge.
The outcome? VIM reached 99% occupancy by the end of June 2023—just seven short months! While the pace was slightly faster than anticipated, our SEO strategies worked, and VIM resonated with the locals.
The rapid pace of leasing, while unexpected, underscored the effectiveness of our strategies. It became clear that VIM wasn't just another property; it resonated with the Colorado Springs community.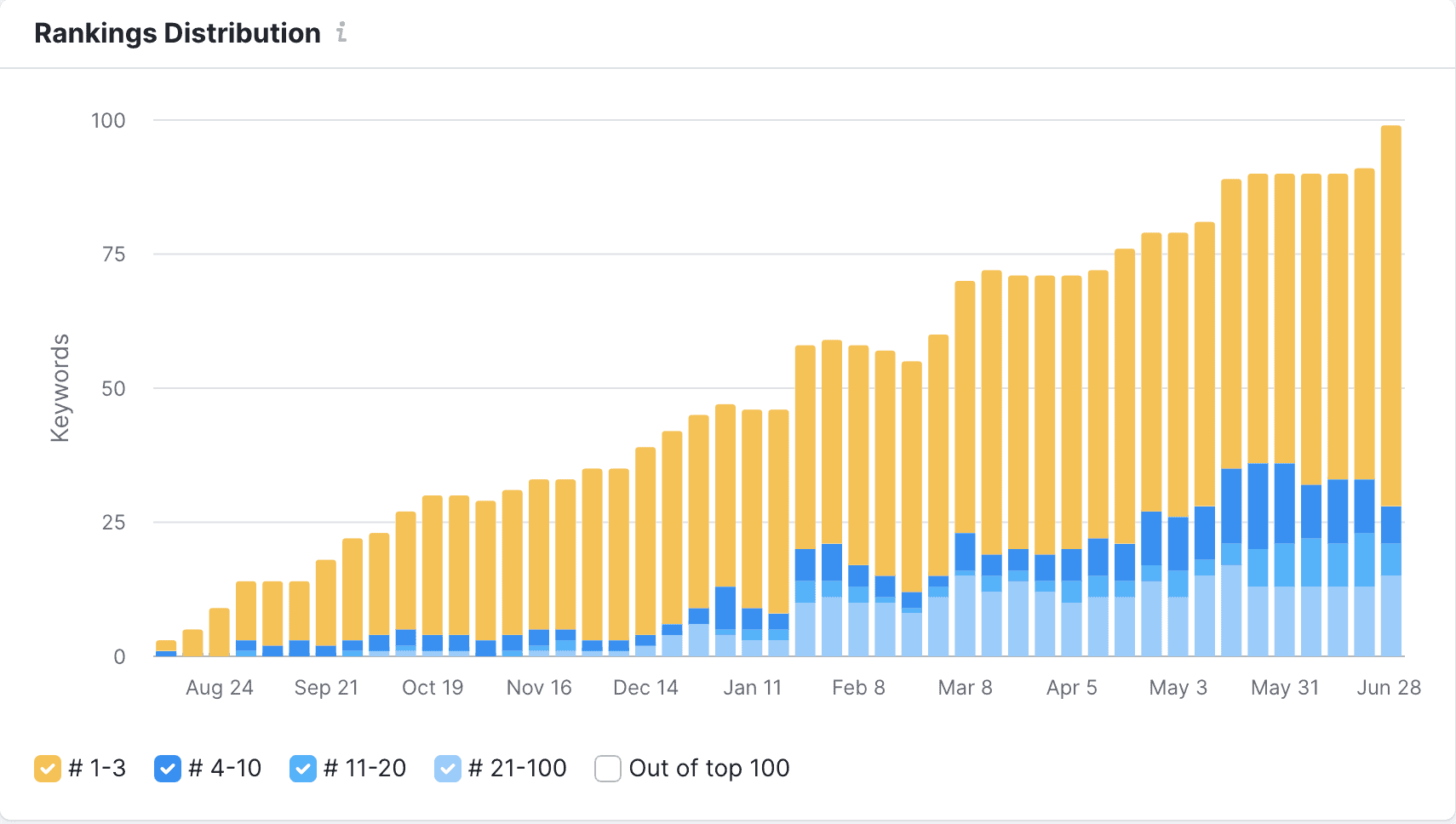 Having achieved our initial leasing goals, we're already planning for what's next. Our partnership with Norwood and VIM remains strong as we look toward the future. We're poised to explore new digital avenues, refine our marketing strategies, and continue enhancing the community's VIM experience. Top-of-the-line SEO software helps track client's online competitors – the VIM's site is attracting 40% more organic visibility than their local competitors!
At Neoscape, we recognize that VIM wasn't just another apartment complex but a lifestyle statement. Drawing from our expertise and unyielding commitment, we've helped shape VIM into more than a place to live. We're proud to have played a role in VIM's journey—one filled with remarkable success and a community that stands out.