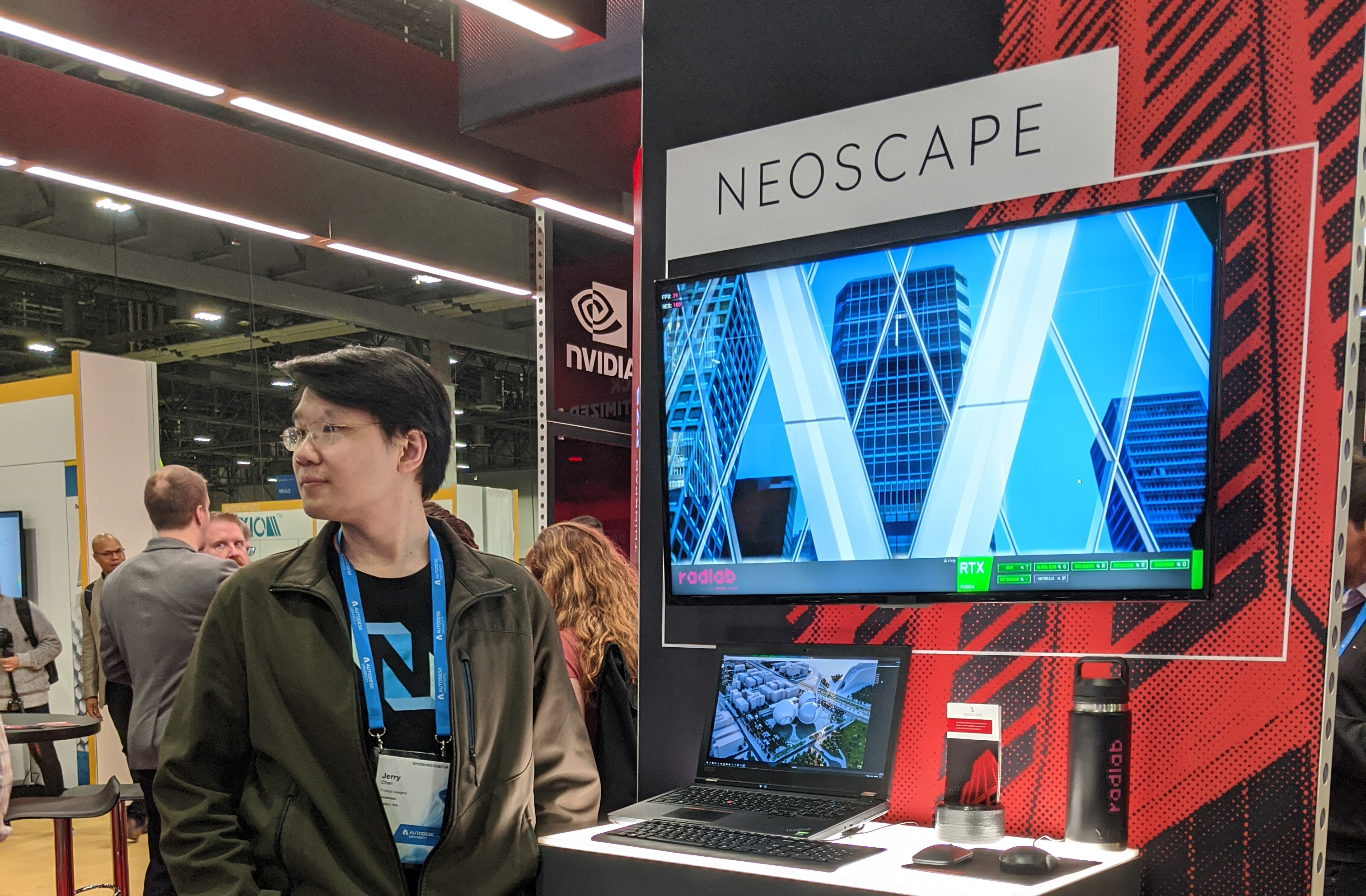 Autodesk University 2019 was the culmination of a year of worldwide travel and conferences for the Neoscape RadLab. We would like to thank all the great people that attended the event and participated in our classes. We appreciate your feedback and are grateful for your comments and opinions regarding our work! 
This year, Neoscape's presentations were led by RadLab Director Carlos Cristerna and targeted the AEC sector. Our first class focused on visualizing architecture while designing it, a topic that has always been a challenge for us and our clients. We covered a few recent, and not so recent, examples of possible uses of Unreal Engine and Chaos Group Project Lavina to leverage NVIDIA's RTX cards on the Lenovo P53 mobile workstation to overcome this issue. 
Our second class was "Archviz meets VFX." Here, we discussed how Neoscape has recently changed its pipeline and added management tools like Autodesk Shotgun and motion-capture technology to make our process more efficient and differentiate it from our competition. We covered some of the most challenging projects we have done throughout the decades, how we got here, and where we see ourselves in the future. 
Topics like these were prevalent throughout the event, and this wasn't by accident. Designers are pushing for ways to iterate designs in less time, often with more complicated datasets. As such, machine learning and AI were recurring topics at the cusp of software and hardware convergence.
On the floor, Lenovo invited Neoscape to be a part of their booth's customer showcase. We had the opportunity to interact and engage with attendees over the four-day extravaganza and chat about hardware and software alike. 
At the Epic Games booth, we demonstrated just a few of the possibilities that exist to produce marketing and conceptual work for real estate using Unreal Engine real-time solutions.
Last but not least, we met up with our friends from Chaos at NVIDIA's booth to showcase one of our demo files on project Lavina, their real-time ray tracer. 
Again, a big thank you to all of the participants and people that took a second to say hi to us. And, of course, to our technology partners Lenovo, NVIDIA, Chaos, and Epic that gave us an incredible platform to share what we've learned over 25 years of leading the field of architectural visualization.
Special thanks to Autodesk for having us and for organizing such a great event. We are extremely happy with the outcome and can't wait to see what AU will bring in the new year.