Congratulations! You're through the entitlement phase, perhaps ready to break ground, visit investors, host a broker party, or just ready to pre-lease or pre-sale. Now what?
It's time to show off your project. You have your marketing budget ready, but how do you know what's right for this project? You know why it's a great project, but how do you convey that to your audience? A successful strategy presents your ideas and values with a point of view that people instantly understand. It communicates what your project stands for, what it doesn't, and why it matters.
Here are just a few things that we think you should consider as part of your go-to-market storytelling strategy. There are loads more considerations, but let's start here.
1. BRANDING… and no we aren't talking about just the logo and name

Many clients think a brand means a logo. In fact, a logo is only a small part of what makes a brand come to life. We create a complete personality for your project. Think of it as a kit-of-parts with:
a distinct tone of voice

a look and feel expressed through messaging, type, imagery, and color, and

a set of guidelines for use across any touchpoint or platform.
Whether a brochure, a website, a social media post, or an advertising campaign–every time the brand is represented, its unique personality shines through. Over time, people will come to understand what a well thought out brand stands for, and how it's different from competitors. If it is consistently expressed, it creates a sense of trust. Trust builds loyalty, referrals, and motivates people to take action.
Check out how we changed the Wall Street perception for Equity Office at 44 Wall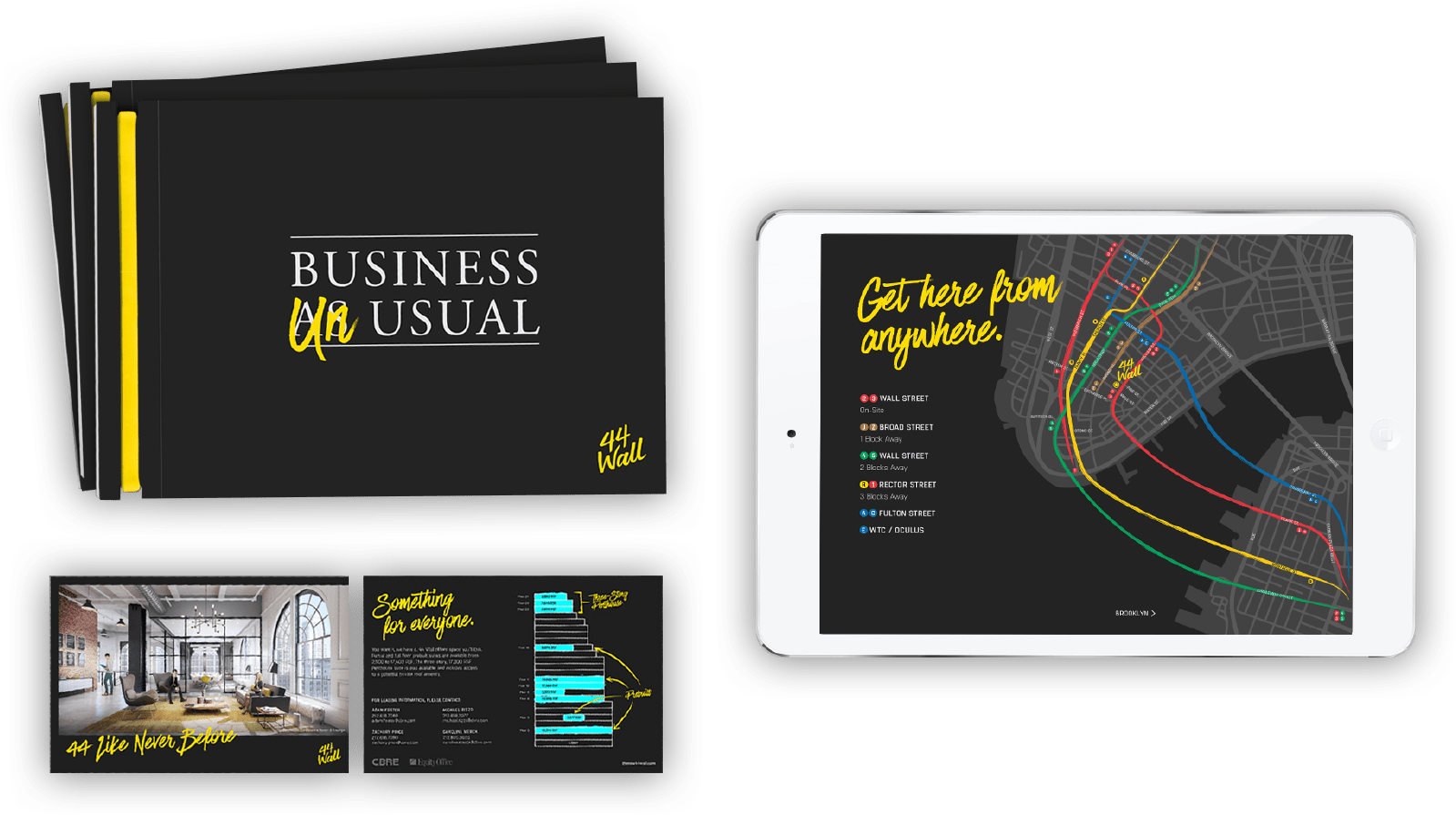 2.  VISUALS
Hook them with some great visuals and get them to come to you for more information. A studio like Neoscape can identify the best visuals for both your budget, your project, and your intended audience. A few opportunities that may pique your interest:
Marketing Ready Renderings

…

not what the architect gave you when you were going through entitlement.

 By investing in the highest quality imagery, you elevate the status of the project and make it a reality.

Imagine standing in front of the construction pit or in a leasing center, putting on the Oculus Go, and you're immediately taken to your new office or to the front door of your building. Take our word for it,

Virtual Reality

is pretty cool.

Marketing and lifestyle films

are inspirational, emotional cinematic vehicles that can tell your story when you can't be there, generating excitement and prompting tenants to reach out.

Photography

sets the tone for the attitude of the project, as well as a target to which the audience can easily relate. Beautiful photos ensure that your materials are punctuated with compelling, distinctive artwork.
The devil is in the details with the renderings and film for 146 Willow.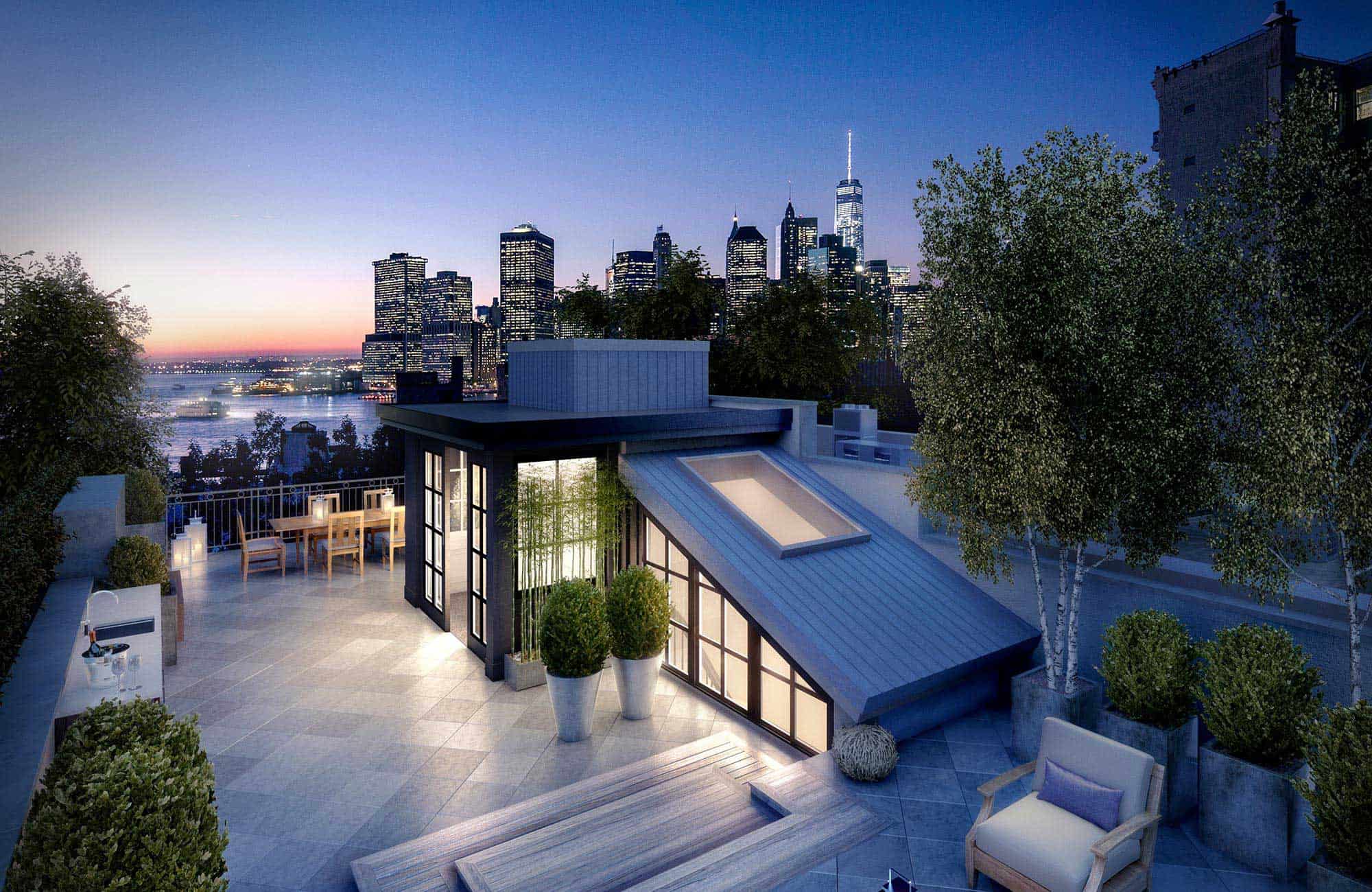 3. IPAD APPLICATIONS (No, they're not old news. You still need one.)
The days of lugging around brochures and delayed follow-up are over. The interactive leasing application provides a non-linear narrative focused on the factual and programmatic material of the pitch. Well organized and highly interactive, it packages all your information together in one place. And it brings the content to life in a meaningful way as floor plans become more than static line work, single images can present multiple scenarios and animated content can show how pieces fit together.
Applications can be made public or private. Search "Neoscape" in the App store to see a few of our public projects.
So there you have it–a quick look at some of the many creative services to consider when bringing your project to market. Of course, every budget, project, and tenant is different.
Let's grab some coffee (or a beer) and talk about the possibilities. Give us a shout.